Written by Garrett Brown – March 29th 2022
Originally published by Film Inquiry
"You know, you're my first Native American boyfriend," Emily whispers to Johnny, almost taking a taboo pleasure in admitting it.
The trials and tribulations of romance provides ample narrative conflict for film, largely because all audiences can relate on some level. Even if the cinematic specifics do not match our individual lives, most people have experienced love and heartbreak, and can see themselves reflected in the main characters. Regardless of the shenanigans that transpire on screen, a fulfilling love story contains some form of universal humanity, a wanting to connect and be seen by others.
Under this criteria, My First Native American Boyfriend succeeds at presenting a sweet and funny romance. Director Joey Clift, a comedian, writer, and enrolled member of the Cowlitz Indian Tribe, has crafted a highly relatable film that remains centered on the Native American experience. The audience is allowed to witness a small slice of the courtship of Johnny (Benny Wayne Sully, Sicangu Lakota) and Emily (Kylie Brakeman), a romance that oscillates between sweetness and awkwardness. While Clift has previously worked in animation, My First Native American Boyfriend is his live-action directorial debut.
TOP-NOTCH CASTING
Benny Wayne Sully and Kylie Brakeman are both wonderfully cast, brightening the screen with their charm and chemistry. Wayne Sully embodies Johnny as goofy and a tad nervous, which plays well against the bubbly energy Brakeman brings to Emily. The actors play off each other so well, allowing the audience to root for their characters to work everything out and end up together.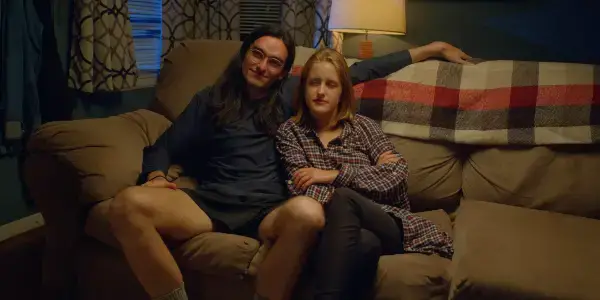 Clift also made an excellent directorial choice by having the film unfold during a hike. As the conflict unfolds in an open field, Emily symbolically can not run from her worries that she is a bad person for past microaggressions, or somehow not as good a person as she hopes to be perceived as. Under the open sky, Johnny cannot escape Emily's increasingly awkward questions that revolve around his Native identity. The longer they stand in the open under the sweltering sun, the longer Johnny has to grapple with the fact that Emily views his Native identity as an accessory to her personality.
REPRESENTATION
With this film, Clift is expanding Native representation and supplanting the expectation that for an experience to be universal it must be lived through a white person. I may not be Native American, but I can empathize with Johnny and his struggle to not be categorized based on his identity. The film uses humor to explore stereotypes and white liberal guilt, allowing white audiences an avenue to comprehend how racial microaggressions can harm others. Primarily though, My First Native American Boyfriend is a chance to provide Native audiences a form of catharsis, a chance to have their real-world experiences represented and validated.

In the end, diverse representation on screen can only strengthen our society, which is why this film is so valuable. Without revealing the ending, My First Native American Boyfriend shows that Joey Clift is a rising comedic power with a deft hand towards weaving in satire. I cannot wait to see what sort of projects he tackles next.
What are your favorite films about relationships? Answer in the comments below.
My First Native American Boyfriend can be seen at the following festivals:

Phoenix Film Festival – March 31st through April 10th 2022 – Phoenix, Arizona
Native American Directed Shorts
Screening Times:
Wednesday, April 6 at 5:10pm
Friday, April 8 at 7:20pm
Saturday, April 9 at 11:15am
Tonkawa Film Festival – April 8th through April 9th 2022 – Tonkawa, Oklahoma
Shorts Block 5
Screening Time:
Saturday April 9 at 6pm

For future release dates, follow Joey Clift on Twitter or visit his website.