Written by Garrett Brown – July 20th 2021
Originally published by Film Inquiry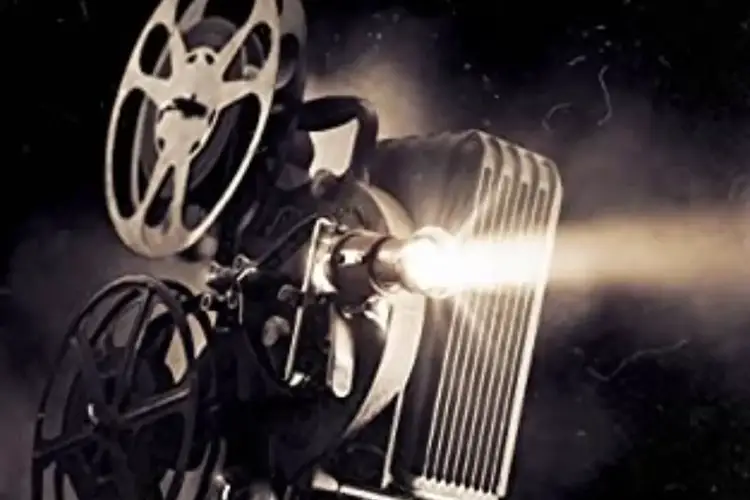 "They make movies." An innocuous phrase, ambiguous without context. Who are "they"? Well… "them" of course. The stars, the divas, the Hollywood elite. The seemingly untouchable titans of Tinsel Town, stretching back nearly 100 years. The individuals are cultivators of taste and culture, movers and shakers like Marlon Brando, Bette Davis, Spike Lee, and countless others. How can we sum up what their collective star power represents? "They make movies."
Left alone by itself, this phrase is simply a declarative fact. These individuals have made movies, yes, but the far-reaching industry itself has influenced history, the medium shaping the world. The world of film is drenched with politics, and to truly appreciate the effects, one could appreciate the addition of context.
Unfortunately, a reader will not find that needed depth within the book They Make Movies, written by George Thomas Clark. The book blends fiction with historical fact, delivering a collection of short vignettes written about famous Hollywood icons. While it has some aspects that might intrigue the reader, I highly recommend finding a different book to scratch that Hollywood itch. Unfortunately, They Make Movies is rarely entertaining, and there are certainly other sources that are much more informative.
LEADING THE READER
First, I want to start by saying that while I may not review the book favorably, I want to highlight and congratulate George Thomas Clark for their ability to write a full-length book. It's never easy to conceive a large piece of writing, and I want to say I admire the tenacity and determination to finish the project. Even if I don't enjoy it, I still want to acknowledge the work and effort that went into creating They Make Movies.

Overall, there are lots of problems with They Make Movies, most obviously the structuring of the book itself. The point-of-view of each vignette is confusing and lacks an obvious entry point for a casual reader. Sometimes the vignette is written from the first-person perspective of the actor, but other times the reader is placed in the story of someone adjacent to the star (a servant or lover perhaps). Often, the focus shifts to a character an actor plays, often meeting the actual actor or living their life. Sometimes, time doesn't seem to matter, where Chadwick Boseman the actor is speaking with Thurgood Marshall, and where they both acknowledge Boseman will play him in the 2017 biopic Marshall.
MISSING POTENTIAL
While this could all lead up to an intriguing and genre-bending work, They Make Movies does not seem to know how to stick the landing. A large part of this is how the characterizations of the book's subjects feel hollow, missing depth, and instead feels like a lackluster impersonator reading several Wikipedia pages from the Golden Ages of Hollywood.
The good news is that the writing can go down smoothly, and can be engaging, if only empty and lacking substance. The question I have to ask myself though is how much of this can be attributed to coasting on the glamour and allure of American film icons, many of who loom large in our collective consciousness?
WHAT DOES IT MEAN?
Often, reading They Make Movies felt like watching a cash-grabbing sequel to a summer blockbuster: lots of flash and fun, as long as you did not think too hard about it. Like a summer blockbuster sequel, reading this book just reminds me I'd rather just watch the original movies.
They Make Movies is also difficult because like I stated earlier, the phrase "they make movies" is declarative, without substance or context to why actors or movies matter. I can read the book and come away with interesting statistics, but without a thesis statement or a theme to follow, it does not amount to much. Reading this book, what am I supposed to take away? Without critique or context, certain parts of this book become tasteless and unnecessary.
EXPLOITATION
Possibly the worst part of the book is "Inside Harvey" a vignette written from the first-person perspective of disgraced film producer Harvey Weinstein, as he traps an actress and harasses her. What follows is a graphic, fictitious play-by-play of the real horrors of Harvey Weinstein and what he did to numerous women. At best, this part of the book is tasteless; at worst, it is offensive and exploitative.
For the record, I asked George Thomas Clark about the lack of context and critique in an interview, to which he responded:
"It wasn't necessary for me to pontificate about how abhorrent was the behavior of Harvey Weinstein. In "Inside Harvey" I showed how bad it was. That's the difference between show and tell. No one who reads my Weinstein story should have any doubt that my portrayal is a devastating denunciation."
I for one, do not believe, think, or assert that George Thomas Clark believes Harvey Weinstein is anything other than a monster, and his actions were terrible. However, I don't need to read a fictionalized account of something heavily documented in court transcripts, in national publications, and in survivor statements. "Trying to understand the mind of a criminal" is a genre of writing that is often unnecessary and creates more fascination with the perpetrator than the surviving victims. Instead of coming off as a denouncement, "Inside Harvey" reeks of exploitation.
CONCLUSION
I cannot recommend that you read this book. They Make Movies has certain story elements that could maybe be intriguing in a different story; however, this book does not capture that potential. It straddles the line between fan-fiction and historical fact, never quite finding the finesse needed to traverse both genres. Like I said previously, reading this book just makes me crave the original articles: if you want to read the history of Hollywood, go to your library or bookstore. Maybe rent a classic movie, or watch a film documentary on Youtube. I believe you'll find something that will be informative, as well as something more entertaining. While the stars of Hollywood might "make movies," this book fails to capture the allure of Tinsel Town, and why film will live on.
What facet of Old Hollywood fascinates and intrigues you? Leave us a comment below!
More information on George Thomas Clark can be found on his website.